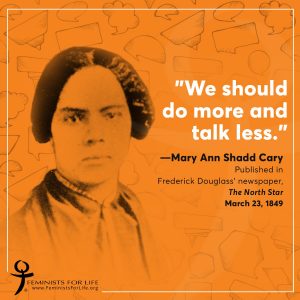 Mary Ann Shadd Cary was an American-Canadian suffragist, abolitionist, journalist, publisher, teacher, and lawyer. The oldest of 13 children, she was born in 1823 to free black parents whose Wilmington, Delaware home often served as a refuge for fugitive slaves. Shadd Cary was the first black woman publisher in North America and the first woman publisher in Canada; she edited The Provincial Freeman, which she founded in 1853. Its slogan: "Devoted to antislavery, temperance and general literature."
In 1848, suffragist, abolitionist, and former slave Frederick Douglass asked readers in his anti-slavery newspaper, The Northern Star, to offer their suggestions on what could be done to improve life for African-Americans. Shadd Cary, then only 25 years of age, wrote to him to say, "We should do more and talk less." She continued: "We have been holding conventions for years — we have been assembling together and whining over our difficulties and afflictions, passing resolutions on resolutions to any extent, but it does really seem that we have made but little progress considering our resolves." Douglass printed the letter, an unapologetic critique of the established male-dominated abolitionist movement and its propensity for long-winded discourse, and it became Shadd Cary's first published work.
In 1850, the United States Congress passed the Fugitive Slave Act, which compelled Americans to assist in the capture of runaway slaves and levied heavy penalties on those who did not comply. Shadd Cary and some other members of her family subsequently left the United States for Canada. She considered the move to be a political one, and she believed she would have greater freedom to continue to fight for the abolitionist cause across the border.
Three decades after Shadd Cary's death in 1893, the great civil rights activist and historian W.E.B. Du Bois paid tribute to her in his essay, "The Damnation of Women": "Well-educated, vivacious, with determination shining from her sharp eyes, she threw herself single-handed into the great Canadian pilgrimage when thousands of hunted black men hurried northward and crept beneath the protection of the lion's paw."
(Credit for much of this profile goes to "Overlooked No More: How Mary Ann Shadd Cary Shook Up the Abolitionist Movement," by Megan Specia of The New York Times: www.nytimes.com/2018/06/06/obituaries/mary-ann-shadd-cary-abolitionist-overlooked.html)