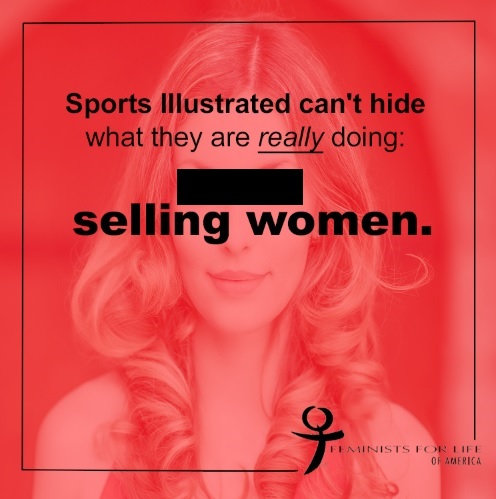 A statement from Feminists for Life President Serrin Foster regarding Sports Illustrated's announcement that they are using their annual Swimsuit Issue to embrace the #MeToo movement:
"Sports Illustrated can't hide behind the #MeToo movement using unclothed women and an all-female core editorial staff, photographer, and crew, who are equally complicit with the objectification of women. No messaging can undo the damage they are inflicting on the movement. Mixed messages don't garner solid results as we work to end exploitation, harassment, trafficking, and sex assault. While we focus on the exploitation of teens and women, SI can't hide what they are really doing: selling women. FFL will not help sell their magazine (which is really selling women) by repeating their images. Even if the traffickers are women, and some women are willing to exploit themselves at the expense of others, we are not giving them a pass."
In addition, FFL Speaker, rape survivor, and sex trafficking expert Joyce McCauley-Benner said the following:
"I read that MJ Day, editor of SI's Swimsuit Issue, told Vanity Fair in an article, 'At the end of the day, we're always going to be sexy, no matter what is happening. We're Sports Illustrated Swimsuit. The ideal is to create something artful, to create a beautiful image that both the subject and the team is proud of and collaborates on together.'
"So, thank you, MJ Day, for making your point clear. It will always be about selling magazines, using women's bodies in swimsuits or not. It's not about ending the exploitation of or assault on women; its about selling magazines, which readers purchase to look at. That is, truly, the definition of objectifying women, no matter how 'artful' you craft your purpose to be. We are not proud, nor impressed."

Contact info@feministsforlife.org if you wish to book Ms. Foster or Ms. McCauley-Benner to speak at your event.
To interview Ms. Foster or Ms. McCauley-Benner, please contact info@feministsforlife.org.