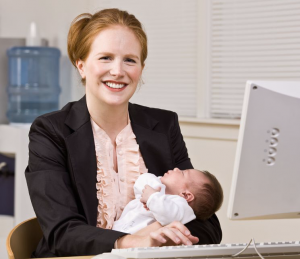 Angela Giordano was thrilled when a family-owned lobbying firm in Salem, Oregon, hired her as an office manager. She loved being a part of the tight-knit group and felt satisfied with her employee benefits. Then, when Giordano experienced infertility and decided to adopt at age 43, her employers provided her with some unexpected benefits, making the firm part of a growing national trend among modern workplaces that now offer adoption assistance to birthmothers and adoptive families.
"Having such a wonderful family put aside their business needs to help meet my needs spoke volumes as to how I was valued," says Giordano, now a stay-at-home mother to her three-year-old son, Daniel. "I couldn't have worked in a better place."
The adoption-related benefits included offering flexible work hours so that Giordano could meet state adoption requirements, such as training classes and home study appointments, as well as allowing her to start her maternity leave immediately once the life-changing phone call came. Knowing the financial challenges becoming a parent often presents, Giordano's office also paid for a $400 dental crown she had delayed. Finally, the firm encouraged her to bring baby Daniel into work with her on a part-time basis.
In today's business culture, many companies hope to have a positive impact within their communities. More and more workplaces are choosing to implement similar benefits to the ones Giordano enjoyed, both for birthmothers choosing adoption and for adoptive families.
In 1993, President Bill Clinton signed the Family and Medical Leave Act (FMLA), requiring larger employers to grant up to 12 weeks of unpaid leave to eligible employees during a 12-month period for various family-related reasons — including the birth or adoption of a child. FMLA effectively mandates job security for mothers placing an infant for adoption or for parents choosing to adopt; their positions cannot be terminated because they need to take time off.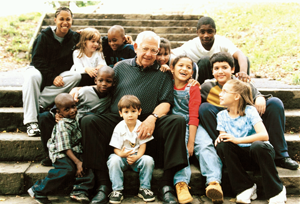 Some companies excel at offering adoption assistance to their employees, above and beyond FMLA requirements. Dave Thomas, the founder and former CEO of Wendy's fast-food restaurants, was adopted as a child. In 1992, he established the Dave Thomas Foundation for Adoption (www.davethomasfoundation.org) to work toward finding permanent families for the thousands of American children in foster care. The foundation created the Adoption-Friendly Workplace Initiative, a program to promote employer-provided adoption benefits. Since 2007, it has released an annual list of "100 Best Adoption-Friendly Workplaces," based on factors such as paid time off, financial assistance for adoption costs, and flexible work schedules.
Companies both large and small have received recognition; corporations including Time, Inc., Nippon Life Insurance Company, Subaru, the National Basketball Association, Timberland, Comcast Corporation, and Citizens' Financial Group, Inc. are among those lauded by the Dave Thomas Foundation for their employee adoption benefits. Some workplaces even offer substantial financial assistance for adoption; Wendy's, for instance, offers up to $24,300 for adoption costs and up to six weeks' paid leave. Meanwhile, underwear retailer Jockey instituted a company-wide program promoting adoption (www.jockeybeingfamily.com) that provides up to $10,000 for each adopted child in addition to extensive post-adoptive services.
Supportive attitudes toward employees' new family members help more than just adoptive parents. Mothers choosing to carry their pregnancies to term in order to create adoption plans can enjoy some benefits as well. Bethany Roberts, a restaurant server in Seattle, discovered she was pregnant at 23. Though she had a positive relationship with the father of her unborn child, they did not wish to marry, and she did not feel prepared for single parenthood. When Roberts chose to make an adoption plan for her child, she immediately informed her bosses and was met with surprising support.
"They were very understanding," Roberts recalls. "Later in the pregnancy, they were careful to help me with any physical tasks that would be difficult for a pregnant woman. They sent me flowers in the hospital when [my son] was born and were supportive throughout the pregnancy and afterwards with advice and comfort."
Birthmothers are equally eligible for maternity coverage in employer-sponsored health plans. Roberts, who was granted her unpaid maternity leave without hassle, feels companies owe birthmothers their strong support. "[Employers should] be understanding about the grieving process, both before the baby is born and after," she suggests. "A birthmother may want to take some maternity leave, even though she isn't caring for the child. There's still a need to take time to recoup emotionally and physically."
Ann Knabe, a public relations professor and Air Force Reserve officer from Waterford, Wisconsin, also knows the value of an understanding employer. After she adopted her daughter from Mongolia, her university quickly found substitute instructors for her classes, while her reserve unit threw a surprise baby shower after her return to America with her daughter.
Policies that assist both mothers and fathers during the adoption process, Knabe says, are essential to meeting their needs and respecting their family choices. "I think it would have been very hard to forgive an employer who made things difficult," she says. "[In adoption], we are dealing with human lives."