FFL President Serrin M. Foster is giving the morning keynote address at the Cornerstone CatholicConference in Tacoma on Saturday, October 25 at 9 AM followed by the bishops of Washington state.
There is an amazing array of speakers at this conference starting on Friday night with Rwandan refugee survivor Immaculée Ilibagiza. Hear Abby Johnson, (former Planned Parenthood director), and Vikki Thorn, (founder of Project Rachel) and among many other terrific speakers on Saturday. Topics will include meeting the needs of the poor, human trafficking victims, and the elderly.
Plan to visit the FFL booth!
Register now at https://www.regonline.com/Register/Checkin.aspxEventID=1513233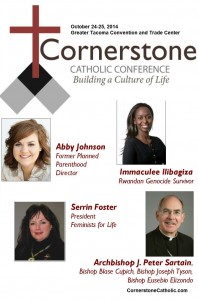 College-age women represent 44% of women who have had abortions.
These women cite the lack of resources and support as the overwhelming reasons.
Feminists for Life, the leading advocate for pro-woman, pro-parent resources on campus, invites student activists to come hear from women who know firsthand the lack of choice on campus. Come and be a part of the revolution to give women the resources and choices they are missing!
Please join the creator of the Women Deserve Better than Abortion® Campaign
FFL President Serrin M. Foster,
student parent and FFL Vice President Sally A. Winn,
rape survivor and student parent Joyce McCauley-Benner,
birthmother and former FFL board member Jessica O'Connor-Petts,
and Johanna E. Young, a student mother of three with an abortion experience.
REVOLUTION ON CAMPUS
Thursday, July 10th at 2:00 PM
Rayburn Building Gold Room 2168
Capitol Hill – Washington, DC
Refreshments will be served.
We want to provide you with the latest tools, so you can join us in the revolution on campus. We look forward to working with you!
Seating is limited for this intern briefing. RSVP now to intern@femininistsforlife.org.
Feminists for Life of America Board Secretary Mike Sciscenti &
Women Deserve Better of D.C. Committee Chair Molly Pannell
invite you to a Women Deserve Better® reception and fundraiser.
Happy Hour with Happy Feminists
on Thursday, May 29, 2014 at 6:00PM
Meet Feminists for Life President Serrin M. Foster, the creator of the Women Deserve Better® Campaign, who will share our rich pro-life feminist history and how FFL is moving forward to address the unmet needs of women and children. Please RSVP by Wednesday, May 21 to RSVP@feministsforlife.org. Bring along your pro-woman, pro-life friends–be sure to list them in your RSVP!
Madhatter
1319 Connecticut Ave NW 
Metro: Dupont Circle
Full Service Cash Bar
Recommended Parking: 1333 New Hampshire Ave NW
If you are unable to attend, your tax-deductible gifts are accepted by mail to FFL, Dept 0641, Washington, DC 20073 and securely here.
We love children, but this event is for adults only. Space is limited.
Feminists for Life President FFL President Serrin Foster will moderate the first FFL Pregnancy Resource Forum at Converse College exactly one year after her lecture there. Forum will take place in the Lever Auditorium Kuhn Hall at 8:30pm.