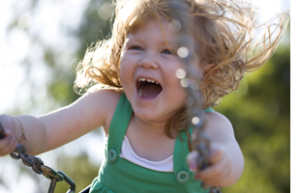 Enjoying the happiness and wellbeing that come from relaxation, recreation, and celebration doesn't require spending a lot of money, so make some time for play and family fun!
Tried-and-True Games and Play for Every Day
Some of the best toys and games have simple components that are durable, reusable, versatile, and relatively inexpensive. They're often portable and educational, too!
There are hundreds of different games that can be played alone or with others using only a deck or two of regular playing cards, for example. Some games, like Crazy Eights, can be played even after a few cards go missing. Visit the children's and adults' nonfiction sections of your local library at 795.4 for books about card games, and don't be afraid to make up a few of your own.
Other simple and fun games with multiple variations include marbles, jacks, dominoes, hopscotch, and tag. (Remember: Do not give infants and toddlers access to toys with small pieces!) Think classic and enduring games; they're often relatively inexpensive or free. Some require no equipment at all.
When it comes to other toys and games, there are still ways to significantly cut costs. Look for durable and versatile toys at garage, yard, and rummage sales or at thrift and consignment stores.
Add-on toys can be a great investment. Some of the best examples are building blocks and toys, whether wooden or plastic. It's not too hard to find pieces at yard sales, and compatible collections can get larger over time. Girls and boys old and young can play with these. Collections of cars, horses, and dollhouse furnishings can often work the same way.
When considering board games from garage sales, inspect the contents before buying. (This is also true for jigsaw puzzles.) Sometimes, you can substitute for missing pieces, and sometimes, you can make do without them. Two copies of a game from really inexpensive sales can be combined. And if you must, game manufacturers sometimes offer replacement parts relatively inexpensively — just don't spend more on parts and shipping than the game costs new.
If you get battery-powered toys, you may want to invest in rechargeable batteries. Like some other non-disposable items, they cost more upfront but save money in the long run.
Before buying paper or poster board for art projects, call around. Local printers are often willing to give away leftover paper trimmings, and newspapers will sometimes give away or sell newsprint paper roll ends. A long roll of butcher paper from a restaurant supply store, or a roll of craft paper from an office supply store, will cost money but can last for ages. Call appliance stores to ask if they will give you large cardboard boxes to build your own forts and playhouses.
Avoid toy commercials by watching cartoons and movies on video. Don't feel pressured to buy into name brands, licensed characters, or technologically fancy gizmos. Play is lots of fun, even without them. Turn on your kid's observation skills, inquisitiveness, and imagination.
Make your own toys. Libraries are full of ideas, projects, patterns, and recipes. For example, make your own "fox tail" for catching games. Put a tennis ball in the toe of a long sock and tie it. Catch the tail, instead of the ball. Make a couple more and try the challenge of juggling them.
Make your own activities. FFL President Serrin Foster remembers her mother Donna filling tin cans with water, getting out some old paint brushes, and letting kids in the neighborhood "paint" pictures on the sidewalk. "Not only was it inexpensive, there was no clean-up involved!" said Foster. Donna also suggests letting small children play with unbreakable pots and pans while a parent is in the kitchen (if you are willing to put up with the noise!).
Family evenings at home may also be kept simple. Read stories aloud and discuss them. Play games or watch movies borrowed from the library or an inexpensive rent-by-mail service. Make dinner together: Homemade pizza can be a fun activity as well as a tasty meal. Clear the furniture, crank the music, dress up, and have a disco/karaoke night in the den. Have a pretend blackout: Bring blankets and pillows to the den, turn out the lights, light your activities with flashlights, and camp indoors.
Hobbies
Many hobbies can actually save money while providing entertainment, and they can be shared with friends and family, too. Examples include cooking, knitting and crochet, sewing, carpentry and mechanics, gardening, and other popular crafts. Some supplies may cost money, like recipe ingredients or knitting needles, but they are an investment in creating something useful and enjoyable, like dinner or a warm scarf. Some hobbies can be supplied, at least in part, by objects you find around the house, in the trash, in nature, and around town.
Check out some library books on a number of different hobbies, choose something that interests you, and learn more. Maybe you know someone who can teach you, or there are inexpensive classes in the area. Then teach your kids what you learn.
There are also many hobbies which, even if they don't necessarily save or make money, are free or inexpensive. Among these are bird watching and calling, bug and leaf collecting, bottle collecting (to redeem, recycle, or decorate), cartooning, climbing skyscrapers by stair, cloud and star gazing, dancing and singing, found object sculpture, gravestone rubbing, walking and hiking, juggling, kite building and flying, letter writing, rockhounding, learning sign language, storytelling, whittling, writing, and yoga. Use your imagination when evaluating your resources. You don't actually need a drum, for example, to learn to drum.
Family Outings and Field Trips
Make the most of the free and inexpensive recreation areas and destinations where you live, including playgrounds and parks; hiking and biking trails; historic sites; nature centers, gardens, arboretums, and botanical sites; exotic and petting zoos; galleries, museums, and planetariums; skating rinks; swimming pools; and beaches. Play areas inside malls are good for small kids on rainy days but only if you resist the urge to shop. A pick-your-own fruit or vegetable farm can be a wonderful place to combine entertainment and inexpensive food shopping (pickyourown.org). Ask recreation areas for newsletters about special events. If there is an entrance fee, ask about free admittance days. Do some digging — at Chicago Public Libraries, for example, you can check out free passes to popular museums and attractions. If you will visit a particular site enough times to save money, consider annual membership.
Always pack your own meals, snacks, and drinks for family outings. Wherever appropriate, take some basic toys, like a ball or frisbee. A guide to bugs, trees, birds, or stars from your public library can expand outdoor experiences. Websites like Nature Rocks (www.naturerocks.org) can help you and your kids discover a new world outdoors.
Many theatres and parks offer free concerts and plays, which may also be inexpensive to attend at high schools and colleges. High school, amateur, and semi-pro sporting events tend to be cheaper than professional events and more kid-friendly. Check local newspapers and bulletin boards for information about cultural festivals, parades, craft shows, fairs, bazaars, and temporary amusement parks. Many towns have at least one low-priced movie theater.
There are lots of opportunities for interesting family field trips. Get a bus ticket and ride around town just to see the place you live. Ride the ferry, if there is one. Find an observation spot at or near an airport, train station, port, or marina to watch arrivals and departures. Call local businesses to ask if you may tour — you might try bakeries, bottling plants, fire stations, newspapers, candy factories, farms and vineyards, noncommercial airfields, or TV studios. For a really special outing for children aged eight to
seventeen, contact Young Eagles (youngeagles.org) for a free flight.
Celebrating Holidays, Birthdays, and Special Occasions
You already know when birthdays, anniversaries, or various holidays are coming up, so plan and budget parties and celebrations well in advance. Think about the things that are most important: What are you celebrating? (Stay focused.) Where? Whom would you like to share the celebration with? What do you want to eat? What activities will be meaningful or entertaining? Should there be gifts, and if so, what is appropriate to the occasion? How would you like to decorate?
Then think about ways to save money while accomplishing your goals. Can you use resources and materials you already have? Can you prepare special food items, like cake, yourself? Can you buy gifts in advance at sales or make something yourself? Can you make your own decorations or invite kids to make them? Are there free activities you can include?
Think creatively, because there are many possibilities. Some foods can be prepared at home in advance and frozen, like pumpkin pie for Thanksgiving. Some foods can be made as part of the festivities, like kids designing their own pizzas or cupcakes at a birthday party. Presents and decorations can be purchased ahead at after-holiday sales, like December 26 or February 15, and many decorations can be stored for reuse. (More things can be reused than people might think: The same Valentine's card given each year for many years can become an even more potent expression of love than a new card!) Consider alternative gifts, like giving to charity in the recipient's name, writing a special letter or poem, or creating coupons for jobs you will do (giving a back rub, mowing the lawn, washing the dishes, etc.). Look at library books about games (see sidebar) for free group activities; some of them are even better with large groups. Or plan a field trip (see above) for a birthday event.
Travel
Some travel is possible, even on a budget. Plan ahead and use your library and other resources to educate yourself. As on other family outings, bring your own food or purchase food in markets and grocery stores, rather than restaurants, whenever possible, and carry a reusable water bottle.
With careful planning and investment in good equipment, camping can be an affordable option. A quality sleeping bag costs money, of course, but it's less expensive than a number of hotel rooms in the long run. Read up on family camping through library books and websites, and talk with experienced campers or hikers before purchasing gear and choosing destinations and timing. If you can, borrow gear before buying, and try out shorter, nearby trips to national, state, and regional parks in your area to get acclimated. Some outdoor gear stores, like REI, offer classes and rent equipment.
Investigate different modes of travel and accommodations. Evaluate travel by car, bus, train, and planes. Consider hostels, guesthouses, and rental properties, as well as hotels. These may be better options than you think. The Encyclopedia of Cheap Travel and other books and websites on frugal living can give you ideas for finding good deals.
Get off the beaten path. Staying in a smaller town can often be cheaper and more interesting than a high-priced city. Travel off-season, or stay in hotels on off-nights, like Sunday, when your destination has fewer tourists. Be cautious with guidebooks. You won't necessarily save money eating in the restaurants or staying in the hotels they recommend.
Avoid going to many different sites with admission fees in one day. See one and get your full money's worth, then spend the rest of the day walking and just appreciating the local atmosphere. Avoid shopping, especially places you could easily visit at home, like malls. Plan more cheap and free activities on your vacations, like hiking and walking on the beach. Eat any meals included in your accommodation price, especially a large breakfast. If you want a restaurant meal, save money by going at lunch, rather than supper.
Think of all the inexpensive souvenir options. Keep a travel journal. Found objects like shells, rocks, and leaves are beautiful reminders of outdoor excursions. Postcards, tickets, brochures, matchbook covers, local newspaper clippings, and maps can be added to photo scrapbooks.
Many guidebooks on budget travel (including Frommer's, Let's Go, Lonely Planet, Rick Steves, and Rough Guide) point out that an open-minded, positive attitude can help you save money as well as enjoy the adventure of travel more. In many cases, the less you spend, the closer you are to the people and cultures of the places you visit. Learn to travel like a "temporary native." Use public transportation, buy groceries from local vendors for picnics, and try to appreciate local ways of doing things that are different from back home. Savor this and be adventuresome. Don't ask the natives where you should go to eat lunch; ask them where they would take their own families for a modestly priced, tasty meal.
Travel Tips
About.com's camping pages
U.S. National Park Service
U.S. National Parks & Monuments Travel Guide
UNESCO World Heritage Sites
Hostelling International (including USA)
Games and Play for Every Day
Look for books like these in your library:
The Picture Rulebook of Kids' Games by Roxanne Henderson
Let's Play Traditional Games of Childhood by Petricic & Gryski
Cooperative Games And Sports: Joyful Activities For Everyone by Terry Orlick
Everybody Wins! 150 Non- Competitive Games for Kids by Cynthia MacGregor
Great Big Book of Children's Games by Derba Wise
Free Family Fun (And Super-Cheap) by Cynthia MacGregor
Hopscotch, Hangman, Hot Potato, & Ha Ha Ha: A Rulebook of Children's Games by Jack Macguire
Card Games for Kids by Adam Ward
Dice Games by John Belton & Joella Crambilt
Hopscotch, Marbles, Juggling, Jacks, and Dominoes (Games Around the World series) by Elizabeth D. Jaffe
101 Great Ways to Keep Your Child Entertained While You Get Something Else Done (Toddlers & Preschoolers) by Danielle Hickman and Valerie Teurlay
Recipes for Art and Craft Materials by Helen Roney Sattler
Last Child in the Woods by Richard Louv
And check out the Simple Kids website at simplekids.net.