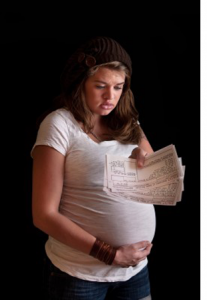 Financial eligibility for a variety of government assistance programs is determined in relation to federal poverty guidelines issued annually by the U.S. Department of Health & Human Services (HHS). These poverty guidelines specify the poverty level of income for families of different sizes. (The income levels are slightly higher for Alaska and Hawaii.) Information about these calculations and a copy of the current year's poverty guidelines are available on the HHS website at aspe.hhs.gov/poverty.
The poverty guidelines used by HHS are a simplified version of the U.S. Census Bureau's poverty thresholds, which are used for statistical analysis. More information on the statistical analysis of poverty throughout the United States may be found on the Census Bureau's website at www.census.gov.
The federal poverty line standard was developed in 1963, based upon the cost of food intake. At that time, the average American family spent one-third of its income on food. To establish the poverty line, the government multiplied the cost of a family's minimal nutritional intake by three. As the Living Wage Action Coalition points out, this method of computation is oversimplified and fails to account for the change in the cost of living over time, particularly the skyrocketing costs of housing, transportation, and healthcare. There are numerous organizations throughout the U.S. fighting for more fair computation and a living wage.
Megan T. Wilson-Reitz was an FFL intern 10 years ago, an experience that inspired her to successfully complete her master's degree this year after discovering she was unexpectedly pregnant. She and her husband live in Cleveland with their two children.