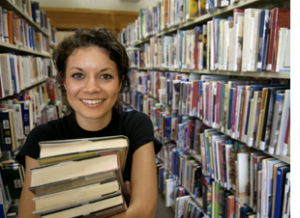 Public libraries are more than just a place to borrow or read books, magazines, newspapers, audio books, music, and videos for both children and adults. This quick tour will help you maximize your library's resources.
As you enter, check out the community bulletin boards, often located near the entrance. These can be a great place to find free local newspapers and magazines, including parenting magazines; information about free and inexpensive concerts, plays, and other events in your area; and information about classes, clubs, organizations, and support groups. You may be surprised by the information available.
Visit the librarians at reference and information desks. Ask about activities, programs, and events at the library for both children and adults and whether the library has a calendar or newsletter. Library events and programs can range from children's story times, crafts, and concerts to computer and financial planning classes. If your library doesn't have a book you're seeking, ask about interlibrary loan opportunities and how to recommend library acquisitions. Ask librarians for book recommendations, too. Some libraries even print lists like "picture books recommended by two-year-olds," "if you like Jane Austen, you may enjoy these authors," or "teen books featuring Latino characters." You can also find out if your library has computers available for Internet access and when library book sales are scheduled.
A number of libraries offer a printed "subject search guide" that will tell you which nonfiction subjects are found in which parts of the library. In the Dewey Decimal cataloging system used by most local libraries, for example, the 700s are books about arts and recreation. The 700 shelves in juvenile/children's nonfiction are a great place to find books about paper crafts, drawing, knitting, songbooks, puppets, dance, puzzles, riddles, magic tricks, juggling, sidewalk games, sports, and camping. Among the adult books, pregnancy books begin at 618.2; home economics and family living are in the 640s; and parenting, child development, and child care begin at 649. Learning the locations of various subjects can make your browsing more efficient.
When you check out, pay any library fines as soon as you are able. Some libraries turn to collection agencies to pursue unpaid fines, which may affect your credit score. More important, avoid fines altogether. Try keeping a calendar of due dates so you will know when to return or renew your books (some libraries offer online renewals). If it helps, check out fewer books on each visit, and keep library books in a specially designated, visible spot.
Beyond the Library: Buying & Swapping Books
Don't overlook other options for free reading. Many books in the public domain (mostly older) are available online. Project Gutenberg (www.gutenberg.org) and Book Glutton (www.bookglutton.com) have thousands of free books, and Librivox (www.librivox.org) volunteers are making many available as free audio downloads. Some religious congregations have their own libraries.
Most libraries have inexpensive book sales worth checking out, as do some religious congregations, and occasionally, you can find great books cheap at thrift stores and yard sales. Local used bookstores should be your next stop. Some are members of associations that print listings of all the used bookstores in the area.
If the books you want are not available locally, PaperBackSwap.com and BookMooch.com allow members to trade their books for only the cost of postage. You may also try websites, like Bookfinder.com, Half.com, and DealOz.com. Just watch the shipping costs so you do not spend more than you would for a new book.
Some publishers also make inexpensive editions. Dover Publications is known for this, publishing many classics for both adults and children.
______________________
By Cat Clark