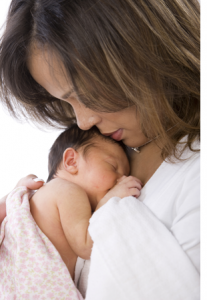 Breast milk or infant formula or both can provide the nutrients, fat, and calories newborn babies need for the first four to six months of their lives and then supplement their nutrition as they begin to eat solid food.
Breastfeeding
Breastfeeding is a low-cost way to provide your child with nutritious food. The American Academy of Pediatrics (www.aap.org/breastfeeding/) recommends breastfeeding newborns for at least six months. Breastfeeding helps build babies' immune systems and promotes bonding between mother and child. Breastfeeding mothers may find it easier to lose pregnancy weight, and breastfeeding contributes to reduced risk of breast and ovarian cancer.
With some help and support, most mothers and infants can successfully breastfeed.
Make sure the baby is allowed to latch on to the breast within the first hour after birth, if possible, and breastfeeding will be easier for both mother and child. While in the hospital, don't let staff give formula or pacifiers to your newborn.
If you are having trouble nursing, try to find a support group. Lactation centers, most hospitals, and many social service agencies offer free classes and support groups. La Leche League is a great resource for breastfeeding information and support (www.llli.org).
Consult your doctor, your baby's pediatrician, or your lactation consultant if you are taking any medication while breastfeeding.
Working outside the home? Don't give up on breastfeeding. You can pump breast milk at work and store it for when you cannot be with your baby to nurse. Check the USDA website at http://www.fda.gov/ and search for "breast pumps" for information about pumping and storing breast milk. Good breast pumps can be expensive to purchase, but low-income women can receive grants for free or low-cost pump rental from a hospital, lactation center, or pharmacy. Contact your state health department or WIC (Women, Infants and Children) office. Look on Craigslist, Freecycle, or local parents' groups to borrow or purchase a used breast pump. The U.S. Food and Drug Administration recommends that only FDA-cleared, hospital-grade pumps, sterilized between uses, should be used by more than one person.
Support Other Mothers
If you produce more milk than your baby needs, consider donating the extra to a milk bank for moms who cannot breastfeed. See www.nationalmilkbank.org.
Advocate for changes in laws that prevent mothers from nursing in public. Search for breastfeeding activism resources and ideas online. If the hospital gives you free formula samples, donate them to a pregnancy resource center or food pantry, or offer them in your community's Freecycle at www.freecycle.org.
If you cannot breastfeed, there are other options.
Some insurance companies will cover the cost of donor breast milk from a milk bank if you are unable to breastfeed your baby. Ask your doctor if this is an option for you. Some adoptive mothers can, and do, breastfeed successfully. The Adoptive Breastfeeding Resource Website can help: www.fourfriends.com/abrw/.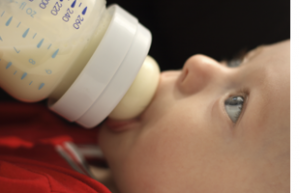 Formula Feeding
Infant formula can be a safe and practical alternative to breast milk. The American Academy of Pediatrics recommends iron-fortified infant formula if you are unable to breastfeed or if your baby is weaned before 12 months or needs supplemental milk. Formula feeding allows fathers, partners, or other family members to participate in nourishing and nurturing the baby, encouraging one-on-one time, and allowing the mother some extra rest. (Pumped breast milk can also be used for this purpose.) Formula can be particularly helpful for mothers who work outside the home, mothers who travel frequently, and mothers in school who have difficulty supplying, storing, and transporting breast milk. Many adoptive families use infant formula.
Infant formula may be available for free at pregnancy care centers or food pantries.
Many formula manufacturers' websites offer coupons. Register at these sites, and formula coupons and samples will be sent directly to you in the mail.
Buy formula in bulk at warehouse stores or generic brands at discount stores. Be sure to do a little research to ensure the formula is similar to name brands, because many store brands are modeled after name brands and provide comparable nutrition for half the cost.
Consider buying powdered formula, which is cheaper and easier to store. Ask for formula donations through Craigslist or other online bulletin boards, such as Freecycle. Trade samples and coupons through community websites, like babycenter.com. To make the most out of formula-trading, register at a number of formula manufacturers' websites so you will have coupons to trade.
If your baby has special feeding needs (food allergies, etc.) and you have to purchase a more expensive brand, try eBay or other discount shopping sites. Be sure to purchase from reputable, well-rated sellers.
If you plan to create a baby registry, put formula and other baby essentials on the registry. Even if you don't get all the formula you'll need from a gift registry, many stores offer discounts to parents before and after the baby is born so that you can buy the items no one else did. These discounts are exclusive to your registry, so when you register, be sure to register for as much as you want to get the discount.
If you are delivering in a hospital, find out what formula the hospital uses. Hospitals often give out formula or diaper bags when a baby is born. You can also raid the supply given to you in your baby's crib cart during your stay in the hospital. (Many nurses will also give you some "to go" as you leave.)
Use only baby formula that is fresh (check the expiration date) and unopened. Inspect the condition of formula cans. Use only unblemished cans without dents, bulges, leaks, or rust spots.
Always prepare baby formula according to the directions. Never try to stretch your budget by adding too much water to baby formula. This can cause serious health problems for your baby.
Babies should never be fed undiluted or unfortified animal milks of any kind. The U.S. Food and Drug Administration does not recommend making your own infant formula, due to serious health risks.
Contributing authors: Amber Balash, Molly Pannell, Elizabeth Sutton, Cayce D. Utley, Megan T. Wilson-Reitz