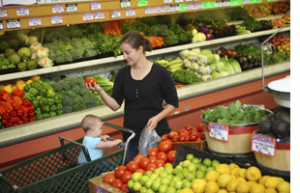 The thought of nourishing a child might seem daunting, but you can do it well and cheaply with the right approach and a few good ideas.
Paying for Food
If you don't have enough money for food, there are many ways of getting help. The federal government offers several major food assistance programs: WIC (Women, Infants and Children), SNAP (Supplemental Nutrition Assistance Program, formerly the Food Stamps program), the Child Care Food Program, and the School Meals Programs. Generally, these programs are operated through state and local agencies, so the best way to find out where to apply is to use the www.fns.uada.gov website. If your computer access is limited, try calling your local health and social services departments.
WIC (www.fns.usda.gov/wic) pays for nutritious foods, such as milk, cereal, and juice for pregnant, post-partum, and breastfeeding women. WIC also provides free formula and baby food and food for children up to age 5. You qualify if your income is 185 percent or less of the U.S. poverty level.
SNAP typically provides debit cards for food to those who qualify, based on income, assets, and other factors. Their website (www.fns.usda.gov/snap) provides a worksheet to help you determine your eligibility. Many people get help from both WIC and SNAP.
If your child is enrolled in family day care, Head Start, or another child care program, he or she will probably be eligible for free or reduced price breakfasts, lunches, and snacks — a great savings for your food budget.
If your budget is still squeezed when your child enters kindergarten, you will be able to rely on the school breakfast and lunch programs for free or reduced price meals.
Charitable organizations can provide immediate help, with no application process. Feeding America (www.feedingamerica.org) has a searchable online directory of food banks in your area. You can also contact local religious communities, pregnancy resource centers (listed under "abortion alternatives" in the phone book), and state agencies for more local food assistance.
Feeding Infants
For a baby's first four to six months, breast milk or infant formula provides all the nutrition she needs (see article on infant feeding). Once a baby starts to eat solid foods, more and more parents are finding that making their own baby food is an easy way to feed their babies well and save money. Although those little jars of pureed carrots with the smiling baby are cute, it doesn't take long to calculate that you can buy one pound of carrots in the produce aisle for the same price as a two-ounce jar.
A website like www.wholesomebabyfood.com provides easy instructions. The only "baby food" you will need to buy is infant cereal, because it contains important iron fortification for babies. (If your baby gets fortified infant formula, she already receives enough iron.) Check with your pediatrician for iron intake recommendations for infants and children.
Stretching your Food Budget
It's a great time to try to eat for less. In today's economy, everyone is doing it! Try sticking to a few key ideas to eat well and spend less.
Buy nutritious and inexpensive staples, not boxed or processed food. These staples include potatoes, carrots, lentils, beans, in-season fruits and vegetables, eggs, whole-wheat flour, brown rice, and more. As a parent, this means not giving in and buying processed foods marketed to kids. Most of those brightly colored boxes contain high-priced, low-nutrition foods that are high in sugar, salt, and preservatives.
Make your own food, eat out less, and pack lunches. (Yes, that means cooking!) Many people don't buy staples, because it requires us to do something with them. Conquer your kitchen fears. Get some tasty, healthy, and easy recipes that use these staple ingredients and keep them in a binder. Many state and county WIC offices offer cooking classes, as well as meal planning and nutrition instruction (www.fns.usda.gov/wic, click on State Agencies).
Use web resources, like www.allrecipes.com, www.lowcostmeal.com, or www.cookforgood.com.
Cookbooks like More-with-Less by Doris Janzen Longacre, Dining on a Dime by Tawra Jean Kellam and Jill Cooper, and Beating the High Cost of Eating by Barbara Salsbury and Sandi Simmons provide low-cost recipes and food purchasing strategies. Learn family recipes from parents or grandparents. These often are made with staples and are great to pass on to your children.
Plan a menu and shopping list for each week and cook ahead. Prevent expensive impulse purchases by using lists, limiting the number of times you go food shopping, and shopping on a full stomach. Cooking ahead makes it possible to have food easily accessible for lunches and busy days when you can't cook. You can print out free menu planning and shopping lists on websites like www.organizedhome.com.
Drink water. The American Academy of Pediatrics recommends that children aged one to six drink no more than one four-ounce glass of juice a day, even 100 percent juice. Stop spending money on extra juice or soft drinks. It's healthy to have your child get used to drinking water and eating fresh fruit, which have more fiber and fewer calories than juice and which, when purchased in season, can cost less. There's growing evidence that even diet soft drinks contribute to weight gain and obesity.
Use coupons wisely. The Internet offers great coupon sites, like www.couponmom.com, which provides printable coupons, a searchable database of grocery and drugstore sales, and suggestions for combining sales and coupons for the best price.
Be creative. Try to make eating-for-less fun. If you have space, plant a garden. If you live in the city, plant herbs in pots, or see if you can get a plot in a nearby community garden. Even a little space can be used efficiently with "square foot gardening" techniques. For more information on gardening, check www.csrees.usda.gov/ extension. Also try shopping at international grocers, which often offer discounts on produce, as well as lower-priced herbs and seasonings.
Waste not, want not. Freeze any leftovers to serve again or transform into soup, casserole, or another creation.
Share the load. If you and a friend or two in the neighborhood take every other night to make dinner for a few families, it saves time and energy.
Split bulk purchases. Take advantage of great prices offered by warehouse stores, without having to keep 25 pounds of rice in your kitchen. Shop with a friend, neighbor, or coworker and divide bulk purchases.
Use a slow cooker or crock pot. This handy machine will do the cooking for you all day while you're at school or working. Healthful foods, like dried beans and root vegetables, as well as less expensive cuts of meat, are easily prepared in a slow cooker. Try the website crockpot.allrecipes.com for ideas. Slow cookers are also great for preparing "mushy" foods for babies. Look for a slow cooker or crock pot on Freecycle or Craigslist.
Use unlikely spaces for bulk food storage, if necessary. Storing food under the bed may work just as well as in the pantry.
Calculate unit prices — the cost of an item per ounce, quart, gallon, or any unit of measurement. (Divide the whole price of the container by the number of units, like ounces or grams, it contains.) The biggest package of something isn't always the best price. The unit price is usually listed in small print on an item's shelf price tag, but you may have to double-check the math or convert the units (for example, from pounds to ounces) to accurately compare.
Keep a price book with an ongoing list of items you regularly buy and how much you paid for them. Make sure your price book includes the unit price. A price book will help you keep track of price trends and sales. You can use a simple notebook or try a spreadsheet-based system like one found at www.cheapcooking.com/pricebook.htm.
Go vegetarian at least once a week. Serve a vegetarian protein source at least once a week to cut costs. A mixture of legumes, whole grains, eggs, dairy products, seeds, or nuts is a low-cost way to provide delicious protein. Cookbooks like Moosewood Restaurant Cooks at Home by the Moosewood Collective and The One-Dish Vegetarian by Maria Robbins offer recipes for protein-packed meals that can easily be made in 30 minutes for those busy work and school nights.
Cheap is Better
These ideas will help you keep down the cost of nourishing your child, but the benefits will go far beyond your wallet. If you breastfeed and make your own baby food, you will have the satisfaction of providing the best for your baby. Even if breastfeeding and making baby food don't fit into your life, you and your baby can be healthy and well-fed. WIC and SNAP benefits will cover a huge portion of your food budget, and the Child Care and School Meals programs will ensure that your child gets the nutrition necessary as she grows and develops. Emergency food aid from charities will also be there when you need help the most.
When you cut back on eating out and processed foods, the extra time you spend cooking and planning can be time you spend with your child. The meals that you share at home with family and friends can provide a foundation of healthy eating habits and healthy communication skills that your child will benefit from throughout life.
---
By Elizabeth Sutton
Elizabeth Sutton RN, MSN, is a nurse, wife, and mother of three daughters ages four, two, and one. She lives in Queens, New York.