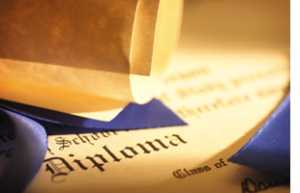 "As a single mother, it can seem extremely difficult to attend college. While it is harder than normal, it is also very possible. Most single mothers will qualify for financial aid, scholarships, and other funding."
–Amy Ekblad, Canton, Michigan
Investing in your education can pay off in greater income, employment options, and job security. Your education is an important security measure for your family. In a bad economy, people may lose material things, such as houses and cars and maybe even their jobs, but you can never lose your education. It is an asset throughout your adult life.
If you do not have a high school diploma, earning one is the first step to the many benefits of obtaining an education. GED (General Educational Development) certification is an alternative to a high school diploma that allows you to work while preparing for and completing the certification exam. More information about this can be found at www.gedtestingservice.com, which has sample questions, study tools, and the latest information about the GED.
Preparing for Success
Obtaining an education is a major commitment, requiring the sacrifice of immediate gratification of many desires. It is important that you prepare for successful completion of your degree (or degrees). One of the key steps is determining the support network you have for completing your education.
Affordable childcare is one of the first priorities in determining how to complete your education goals. In an ideal situation, you can gather your family and friends and determine who can help watch your children. My best friend obtained all of her college degrees as a single mom. She is now working on her dissertation for her doctoral degree. Whenever she planned her classes, we lined up friends and family to care for her child. She never had to spend a dime on childcare for her advanced degrees and used the state's free childcare along with the help of family and friends for her bachelor's degree. Check with your state for some of these government-sponsored benefits. There may also be church and community groups that can help or other parents of young children who will trade childcare. Some GED programs and community colleges have on-campus childcare.
If you are not close enough to walk or bike to class, finding reliable transportation for school can also be a challenge. If you live in a location with an adequate public transportation system (which may offer student discounts) or have a car, you can get yourself to classes. Again, your support network can be valuable. Try to get to know people in your programs and offer to carpool on occasion. Carpooling can greatly reduce the costs of transportation. If you live in a location where there are no educational institutions nearby, distance and online education may ease the burden of transportation.
For women who need to create a support network from scratch, residential maternity homes can be a great alternative. Many of these homes provide education, health care, and living needs to young, single women at no cost. If you need housing help and no maternity homes are available in your area, contact your school's housing department. Even if your school does not offer family housing, the office may be able to help you find low-cost housing nearby or modify on-campus housing to accommodate you.
Affordable Post-Secondary Education Options
Community colleges are often a fraction of the cost of state universities and colleges. You can complete your first two years of college here. Childcare and public transportation to these local colleges are often available. Collegebound.net has a variety of information about choosing a college and helping you find a community college in your area. Check with any college or university you plan to attend after community college to find out what courses you need to transfer into your four-year program.
Distance and/or online education has become a practical option for many who want to attend school while managing other family or work commitments. As an administrator of one such program, I can testify to the flexibility they offer. The students in distance education programs are typically adults from diverse backgrounds who have other responsibilities besides just being a student. You can search for distance education programs at www.distance-education.org.
There is more to choosing the right college or university than affordability. In order for your college degree to be marketable in the workplace, you need to be sure it is from an accredited university. Also, if you are interested in a profession that requires licensure (such as nursing, teaching, etc.), then you need to be sure the college offers this licensure as part of their program. Some distance programs may look and sound affordable on the surface, but your degree needs to be viable in a competitive job market.
For persons with disabilities, check the resources that are available to you. The Americans with Disabilities Act requires that all education institutions provide the necessary accommodations for those with disabilities. These accommodations can range from interpreters and note-takers to extended time on assignments and tests. All colleges and universities have an office of disability and academic support. Be sure to contact these offices and inform them of your disability and the accommodations you need for successful completion. The Association of Higher Education and Disability at www.ahead.org and disability.gov have information specific to higher education on their websites. If you are pregnant, you may be able to get a temporary handicapped parking spot and/or classroom furniture that accommodates you comfortably. Check with your school's disability and academic support office.
In case you have to miss a class because of pregnancy issues, sick children, or other family needs, have a designated buddy or two in each class to take notes or tape the class for you. Get to know your professors right off the bat. Talk to them before or after class, or try to set up a meeting with the busy ones. Let them know about your situation and your intention to meet their expectations. You can even let them in on your buddy-system plans described above; it could help in those times when something goes awry at home. Be sure to call your professors if you have to be absent (even if it's a large class). This lets them know you're dedicated to their class. It's also a good tip for distance learners to go beyond email and actually have phone conversations with professors from time to time.
For breastfeeding mothers, find out if there are designated spots on campus for breastfeeding or pumping, or ask other student parents for the best spots. Also check out local resources for support and even free pumps (see article on page 11).
A good tool to assess your school's resources for pregnant and parenting students is FFL's Pregnancy Resources Survey (click on "FFL's College Outreach" at www.feministsforlife.org). Developed by FFL with input from parenting students, faculty, and administrators, this survey highlights areas where pregnant and parenting students typically need help.
Financing Your Education
There are many types of scholarships and loans available to students. These can be found at www.fafsa.ed.gov. Singlemom.com also has a list of scholarships that are more specific to single mothers. Some employers will pay for part of your college tuition. Consider seeking employment that supports your education. Although working full-time and going to school can be quite the challenge, it is another option for those with support for these goals.
For the future security of your family, it is very important that you limit the amount of school loans that you receive. Loans can be such a temptation when you realize how much you are able to receive. But all of this money must be paid back; student loans cannot be erased through bankruptcy. I have seen too many students create an inflated standard of living by using school loans to buy cars, go out to dinner with friends, etc. Then they do not secure the employment needed to pay off these hefty loans — and their families are haunted by this debt for years. Only take on the minimum amount of loans necessary to pay tuition expenses. School loans can be good debt, if used wisely.
There are a couple of places to cut corners once you choose an affordable option for tuition expenses. Do not eat your meals on campus — pack a lunch. Each textbook has a hefty price tag averaging $90. Don't purchase books until you go to the first class and ask the professor which books you will really need. Buy your textbooks used at half.com or other online used bookstores. For those who are more technologically savvy, you can download an application called Book Burro that will search the Internet for the cheapest price on books. Instructions are located at bookburrito.org. Consider asking a student from a previous year for her textbook. An older edition of the book will usually contain the same material. If a used textbook is unavailable and you must purchase a new one, treat it gently — no highlighting or otherwise marking the pages — to make it suitable for resale when you are finished with it.
Be sure to take time for yourself and network with other student parents for support. Know you are not alone, and relax once in a while! Kid-friendly potluck dinners with fellow student parents can provide camaraderie for parents and cheap fun for kids.
Money, family situations, age, number of children, and other life circumstances are not the biggest predictors of academic success; determination is. Then it's a matter of setting out a clear plan from start to finish and securing the support you need to see it through.
Dr. Beth Ackerman is an associate dean in the School of Education at Liberty University. Her career and studies are in special education and leadership, and she is the proud mother of two young children.
There is more to choosing the right college or university than affordability. In order for your college degree to be marketable in the workplace, you need to be sure it is from an accredited university.
Job Training and Placement Assistance
Career One-Stop: U.S. Department of Labor
Goodwill Job Training & Placement Services
Equal Employment Opportunity Commission
For people facing employment discrimination
800-669-4000
iRelaunch Career Reentry Programs
Tips for Successful Degree Completion
As you begin your studies, it is important to know your strengths and weaknesses and plan for any disappointment. I'll never forget when I received a rejection letter from the doctoral program I sought to enter. It was such a personal setback, and I wasn't sure if I could continue further. Instead of giving up, I hired a tutor, studied harder for the entrance exam, and wrote a plea letter to the university. I was accepted on my second try. If you have a difficult time in math or struggle with your writing, you must work harder in these areas. Most educational institutions have programs for students who need further assistance, such as free tutoring services and study skills classes. Take advantage of these resources to successfully finish your studies. For example, I took a study skills class as an undergraduate. I never would have finished my doctorate without it. The two most important things that I learned in the class were time management and proper study skills and habits.
Student parents need to learn to manage their time and compartmentalize their lives. You can do this by creating a monthly schedule. Write everything you do in this schedule and stick by it. If 1 to 3 p.m. is your child's naptime and you're not taking a class at that time, then schedule study time. If you work best in the morning, get up an hour or two earlier than others in the house and study; if you work better at night, plan to study when others have gone to bed. You must learn to schedule time for work and study into your day. Then you need to stick with this schedule; make it a habit and ask your family and friends to respect it.
Make the most of your study time investment. Have a dedicated workspace for these hours. Create an environment free of distractions and suited to your work style. Make a notebook for each course, and mark up your textbooks with highlighters and notes when you skim through them (except for those books you wish to resell). A great source for studying and note-taking tips is www.academictips.org. Anything can happen for those with determination, but we also have to do our part and prepare for success.