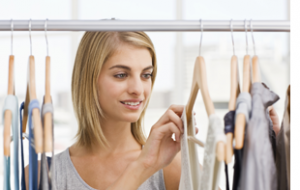 Try this on for size: The average full-term newborn weighs about 7.5 pounds, and the average 24-month-old weighs somewhere near 30 pounds. Kids quadruple their weight in the first two years of life. With that kind of growth, clothes that look ridiculously huge one month actually fit the next. Few articles of baby clothing are worn very much, and some never even get pulled out of the closet. Savvy shoppers know that quality and workability are much more important than quantity. It turns out that this shopping method also keeps the budget nicely in check. Outfitting a child on the cheap is one of the easiest ways to save money. And don't worry, cheap doesn't have to mean shabby.
In fact, cheap can actually be pretty stylish. What happens to those outfits that never get worn, the tags never even taken off? Lots of still-tagged kids' clothing winds up in thrift stores, massively discounted. Onesies and t-shirts are often as low as $1. If you spend $20 stocking up on different sizes of onesies, your baby has her everyday wear for a year.
Thrift stores sell everything from baby hats to toddler coats to shoes and even formal clothing for the whole family. California mom Sara Quintanar says her family shops secondhand not just because it's cheap but because it's fun finding gems. "I know lots of people may have a hard time even thinking about wearing used clothes, but my 4½-year-old princess adores the $2-3 fancy dresses I buy her each month at the thrift store. The clothes are often in great shape, and you can also get some real cute, vintage styles you just don't see around anymore," she said.
Look for outfits that have strong seams with no fraying or separation. Buy shirts and pants in colors that complement many others so they can be worn often. Black or brown pants and blue jeans are versatile must-haves. Knowing a basic set of complementary colors that look good on you or your children can help cut back on impulse buys. For kids, don't underestimate the value of elastic. Pants with elastic in the waist can last for months after non-elastic pants are too tight, saving you even more money. If you've got a toddler who could fit in a larger size without the outfit being too baggy, opt up. He or she won't know the difference, and you'll get more months of wear before having to shop again.
For nicer items, like holiday dresses or three-piece suits, check local consignment shops. These stores usually have higher standards than thrift stores, so you'll pay a little more, but the deal will still be better than retail. And the best part is that when your kids grow out of their nicer outfits, you can sell them at the consignment shop to get some cash for the next shopping trip. Once Upon a Child, for example, is a popular national chain of resale shops. You can get paid for your children's gently used clothing and shop for quality used clothing. Search for a location near you at www.ouac.com.
Thrift stores and consignment shops aren't the only places for deals. Large general retail and clothing stores routinely have clearance racks packed with discounted clothing that just didn't sell out before the stores brought in new styles. Check clearance racks as often as you can, but especially towards the end of seasons. Summer clothing receives markdowns starting in July, and winter markdowns start in February, give or take a few weeks and depending on where you live. Some of the deals are just too good to pass up, like coats marked down 75 percent or more. Go ahead and buy one in a size or two up if you have the extra cash — you'll appreciate that purchase all over again when winter rolls back around. When shopping for girls, check the boys' and men's departments for unisex t-shirts, shorts, and jackets. They're usually cheaper than their equivalents in the girls' department, and you won't sacrifice much in the way of style.
In many areas, yard sales go hand-in-hand with spring cleaning. Check local newspapers, Craigslist, and community bulletin boards for yard sales notices. Often, people just want to get rid of stuff, and they'll let you fill up a whole bag of clothing for a buck or two. Community, school, and neighborhood yard sales provide a wider selection of clothing from multiple sellers. Search online for local "moms of multiples" groups. These groups of parents of twins, triplets, and more often host sales with a wealth of clothing.
But what if you want to go even cheaper, or better yet, free? Free is entirely doable, says Massachusetts mom Ann Elise Shea. She says she's hardly had to buy any outfits for her children because she's taken advantage of free clothing offers. "The first two things that pop into my head are Craigslist and Freecycle, two awesome places to get low-cost and free baby and kids' stuff from local people," she said. While Craigslist (www.craigslist.org) is more likely to have items for sale, including eBay-style lots, Freecycle (www.freecycle.org) is a community email network where everything is free. People who have things they no longer need — such as baby items, furniture, even formula coupons — can post the items to their community's network, and another member can chime in to say, "I need that!" It's a great way to keep still usable stuff out of landfills and to help out our neighbors. Keep in mind that Craigslist and Freecycle are public resources — avoid giving unnecessary personal information, and bring a friend when you are entering a stranger's home or ask for a porch pick-up.
For an even more innovative way to save big on kids' clothing, take part in a clothing swap. Anne Morse, a mom in Maryland, says she and several of her friends had babies close in age, so they exchanged baby clothes, shoes, blankets, and more. "We saved each other a lot of money, and our babies had huge wardrobes!" she said. Get to know your neighbors with kids. Join a local parenting group. Take advantage of hand-me-downs when they're offered.
Now that you've got free and cheap clothing, where do you keep it all? The 75 percent-off winter coat you bought in June needs a place to stay until colder weather comes. Keep clothing stored in a clearly marked place you will remember. Storing clothing in the closet or under the bed is convenient, but the attic, basement, or any spare space will work just as well. You may want to invest in some sturdy boxes or plastic tubs (check Freecycle). A labeling system can help you keep track of what you have, and a seasonal inventory will help you spot any gaps in the clothing your child needs.
The bottom line: Clothing doesn't have to cost an arm and a leg if you're willing to make a few compromises, put in a little extra effort, and get creative.
---
By Bonnie Bailey
Bonnie Bailey is a web designer and writer who lives in Birmingham, Alabama, with her husband and two-year-old [1] daughter.