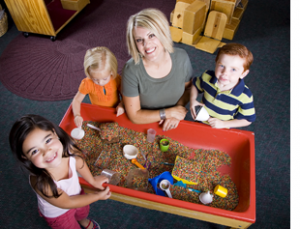 If you are facing decisions about childcare, you are not alone. Whether by choice or necessity, most parents are now working outside the home in order to support their families. According to a report published by the National Association of Childcare Resource & Referral Agencies (NACCRRA) in 2008, there are 8.6 million families in the United States in which both parents are working, 5.6 million working single parents, and 14.3 million children under age six in need of childcare. On average, children under age five with working mothers spend 36 hours a week in childcare.
A common question for parents seeking childcare is: How can we afford this? NACCRRA reports that the average annual fees for full-time center care for an infant range from $4,542 to $14,591. The cost of in-home childcare is slightly less. Infant care is the most expensive, primarily because the infant-to-caregiver ratio must be lower. Full-time center care for a toddler or preschool child costs from $3,380 to $10,787.
When children reach school age, regular full-time childcare is replaced by before- and after-school care. According to NACCRRA, those costs range from $2,000 to almost $9,000 annually.
Those who face economic challenges have options. Early Head Start and Head Start provide comprehensive development services to infants and preschool children of low-income parents (eclkc.ohs.acf.hhs.gov). The federal government provides links to childcare resources as well as information on child support enforcement, health issues, safety and crime prevention, and other issues pertinent to parenting at www.usa.gov/Topics/Parents.shtml. For information on the Childcare and Development Fund, go to http://www.hhs.gov/recovery/programs/acf/childcare.html.
What about families who do not qualify as low-income? For working and poor parents who fall somewhere between barely making it and just getting by, creativity and resourcefulness are key. There are reasonable solutions available — ways to save on childcare without sacrificing quality and reliability. Some parents are able to turn to other family members (like grandparents, aunts, and uncles) for free or low-cost childcare, but many of us must place our children into care outside of our families.
Childcare centers are generally the most expensive option for working families, but the best centers offer the benefits of reliability, structure, socialization, trained teachers and staff, and educational programming and curriculum. Many childcare centers are equipped with toys and materials designed to nurture development and maximize your child's learning potential. Some centers have live video feed online, which allows parents to see what their child is doing throughout the day.
In-home childcare can be less expensive than a center, and some parents prefer the smaller, more relaxed setting for their children. However, both types of childcare vary widely in all aspects, from facility to philosophy. The key to finding the solution that works best for your family is research.
Shopping for childcare providers can be a long process. Parents should be exhaustive in their research before agreeing to an arrangement. Interviews with the provider, during business hours, are vitally important. Background checks, proof of licensing, and observation of the children in the childcare setting will help the parent gain a sense of how the service is run. Contacting other parents using the provider is another essential piece of the childcare puzzle.
Some employers offer on-site childcare. If your skills fit, consider applying for employment at such a company. Interested in going back to school? Many college campuses include childcare services at a discounted rate for their students. Some parents have even become professional childcare providers themselves while taking care of their own children.
There are many online resources designed to aid parents in the search for affordable, quality childcare. Websites such as www.childcareaware.org allow you to search for providers by name, city, or ZIP code. They provide checklists to guide parents through the search process, as well as sample interview questions to use with potential providers. They also offer electronic newsletters for both parents and childcare providers. The Childcare and Development Fund (http://www.acf.hhs.gov/programs/occ/parents) provides comprehensive information on state childcare providers.
School-Age Childcare
For many parents, the childcare challenge does not end when their children begin school. Before- and after-school care is often necessary for single parents or when both parents work. The YMCA (www.ymca.net) offers a school-age childcare program called Y-Care, serving more than 500,000 kids at 9,000 sites nationwide. Y-Care employs trained teachers to supervise children and fill their time constructively with age-appropriate life lessons, homework time, and structured play. The programs are often located at elementary schools, so children can be dropped off before school starts and stay after school as late as 6 p.m. — and parents do not have to coordinate transportation or pay bus fees. Breakfast and snacks are usually included at no additional charge. The YMCA offers financial assistance for families who qualify.
Boys & Girls Clubs is another nationwide agency that offers before- and after-school childcare options in many communities. You can search their website, www.bgca.org, by ZIP code to find a club near you.
Summer vacation, while blissful for our children, can present a problem for parents in need of childcare. This is where community centers and local parks and recreation programs become handy. Both entities offer a wide variety of programming to stimulate the minds of our children. The downside is that parents must organize transportation or have flexible working hours which allow for getting their children to and from activities. The upside is that there are countless enrichment programs, day camps, and music and sports lessons to entertain and educate your children during the summer. The classes and camps are usually priced reasonably and offer your children the opportunity to become acquainted with other children from the neighborhood.
Swap Services
Of course, not all childcare needs are full-time. Sometimes, parents simply need a little time away. Paying for entertainment and babysitting can be expensive. Luckily, it's not always necessary. Babysitting swaps can be an affordable option for the occasional evening away from the kids. This requires some planning and coordination and a willingness to watch a friend's children in exchange for a night out, but the reward is free babysitting and the comfort of knowing that your children are in the hands of someone you know and trust. Swapping services is not limited to childcare. You may be able to swap your other skills — cooking, landscaping, accounting, hairstyling — for babysitting.
Babysitting co-ops are a more formalized way to swap babysitting. Co-ops typically are composed of three to five families. There are numerous ways to organize your co-op, such as setting up a point system, but organization and communication are key to ensure that all participants benefit. To help you get started, check out www.babysittingcoop.com or www.babycenter.com in the childcare section. Babysitter Exchange (www.babysitterexchange.com) even allows you to set up your co-op online. There is a fee for this, but the cost could be covered by implementing co-op dues.
If you don't have friends with children, you can get involved in parent groups through religious communities, hospitals, community centers, or public schools. Parent groups offer opportunities to create friendships with other parents who are eager to swap babysitting. You can also go to www.meetup.com to browse local groups in a variety of categories, including "parenting" and "childcare." Meetup allows you to search by geographic location and area of interest.
We often feel alone in our struggles as working parents, but the Internet can be a wealth of information, practical resources, and so much more. You can subscribe to countless weekly and monthly e-newsletters that tackle parenting issues customized to your individual needs and interests. There are numerous online communities and social networking outlets where you can connect with others in similar life stages and styles — Babycenter, MySpace, Facebook, and iVillage are just a few to check out. In our shrinking world, no one has to go without advice, camaraderie, and community.
---
By Erin Jones
Erin Jones works for a national not-for-profit organization and is a freelance writer and photographer. She lives in the Kansas City area with her six-year-old son and their dog. Besides writing and photography, she enjoys reading, knitting, and exploring the mountains of southern Colorado.