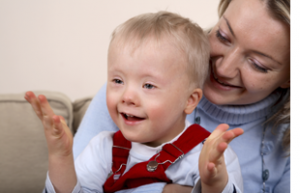 If you are a parent or expecting parent of a child with special needs, you are not alone. According to the National Survey of Children with Special Health Care Needs, almost 14 percent of children in the U.S. have special health care needs, and approximately 22 percent of homes with children include a child with special health care needs. That means that others have gone before you in creating resources and sharing their experiences to benefit parents like you.
The Internet has become an essential resource to help you, your child with special needs, and your entire family as you navigate the journey that now lies before you.
No matter how your family is defined, every member has been or will be affected in some manner by your child's disease or disability. This makes living and coping with your new "normal" an issue for the whole family.
Respite Care for Family Members
My daughter Esabella has complex Congenital Heart Defects/Disease (CHD), Pulmonary Hypertension, and Heterotaxy Syndrome and will live with these chronic illnesses her entire life. If I heard the following plea once, I heard it a hundred times from our nurses in neonatal and pediatric intensive care units: "You need to take care of yourself, or else you won't be able to effectively take care of your baby." I often resented hearing this. In my mind, typical mothers who went home with their babies after birth slept very little while caring for their newborns. Why should I be any different just because my baby was in the NICU? It didn't hit home with me until a nurse warned me that if I became sick because of a lack of adequate rest, then I would not be allowed to be near my child.
Rest is not just important during hospitalizations, but during everyday life at home as well. When your child is napping and you contemplate napping with her because you are exhausted, it is natural for guilt to creep in because of all the work you could get done while she sleeps. You must learn to listen to your body. If you feel a fever or other illness coming on, then have a sleep. If you simply don't want to tend to the chores at hand, then you're probably better off taking a few deep breaths and thinking of how good you will feel once your tasks are completed. As much as you may want to be "supermom," you must be realistic and choose the option that will serve you best. You are only human, so your mind and body need rest, and your spirit requires refreshment. Beyond the physical benefits, a short break can renew and re-energize you, enabling you to regain your focus, determination, and joy in caring for your child.
Respite care provides a short break for families and caregivers. Temporary care is provided to children or adults with disabilities or chronic or terminal illnesses. In-home or out-of-home care can be provided for any length of time, depending on the needs of the family and the available resources. There are many avenues to finding low-cost, if not free, respite care.
Links to care providers, including camps.
Educational Opportunities for Children with Special Needs
The Individuals with Disabilities Education Act (IDEA) sets forth the federal regulations pertaining to special education. One of these regulations mandates that every child who is enrolled in a special education program or is mainstreamed but has a learning disability must have an Individualized Education Program (IEP). Each child's IEP is developed by the parent(s) and a team of educational professionals and spells out the specifics of the child's special education services, including annual learning goals, the provisions the school must make in an effort to achieve these goals, and the reasoning behind the chosen plan. This legally binding and enforceable document allows the parent(s) to obtain the quality of education, care, and attention their child deserves. A child's IEP must be reviewed by the parent(s) and education team at least once a year to determine if the goals set for that year were achieved and if they should be revised. It is up to the parent(s) to ensure that their child's IEP is sufficiently comprehensive and adequately outlined and that it is executed in full.
One of the most important things you can do in the IEP creation process is prepare, prepare, prepare. Be organized, and keep all of your child's records together. Bring copies for your team to the IEP meetings. Take good notes of every phone call, meeting, and conversation, and keep them all together in one bound notebook. Good notes include the date and time of phone calls, the name of the person with whom you are speaking, the reason for the call, and any solutions offered or arrangements agreed upon. Another good strategy is taking someone with you to meetings. If something you are unsure of is said during a meeting, never hesitate to ask for clarification or an example.
Creating the IEP may be the easier part of this journey. Difficulties often lie in its full execution and enforcement. If you have a justified problem with the IEP and/or its execution, there are five steps you can pursue to resolve it: 1) State your concerns to your child's education team and seek a resolution with her. Ideally, this will resolve the issue, and there will be no need to take additional steps. 2) Contact your school district's Special Education Director to explain your situation and lack of success with the first step. 3) Continue up the chain of authority by contacting your county's Special Education Office. 4) Contact your state's Special Education Office. 5) Obtain an advocate to represent you in the matter. This should be a last resort, after the other avenues have been exhausted. Advocates can be the catalyst some parents need to secure the services their child requires, but they can also raise the degree of hostility between parents and educators.
Resources for IEP Creation and Enforcement
How Well Does Your IEP Measure Up? by Diane Twachtman-Cullen and Jennifer Twachtman-Reilly
Believe in My Child with Special Needs! by Mary A. Falvey
450 Strategies for Success by Peggy A. Hammeken
Activities
Children with disabilities want the same things as any other kid their age — to spend time with friends, be included, and exercise their independence. And like any other children, their activity interests are broad: swimming and sports, visiting parks and playgrounds, attending summer camps, and simply hanging out with friends at the mall or movie theater. But routine childhood activities can be both physically and mentally challenging for children with special needs. Take advantage of the opportunities these obstacles present, and treat them as teachable moments for you to encourage your child to persevere through challenges.
The options available for children with disabilities to participate in physical activities and accessible leisure alternatives continue to grow. Whether you're wondering how particular activities can be adapted to suit your child's needs or are simply looking for emotional support as you try to help your child be active, the Web provides a multitude of resources.
Activity Resources
These websites offer ideas and information, from low-cost and free activities to do at home to sports instruction and summer camps for children with special needs.
www.kidscamps.com/specialneeds–camps.camp
www.adaptivesportsfoundation.org
State-by-State Databases
These sites provide state-by-state listings and (often searchable) databases of special needs resources throughout the country.
Government Resources
These sites provide information on government assistance for housing, financial resources, and accessibility.
www.hud.gov/groups/disabilities.cfm
Resources for Meeting Parents' Needs
Offering practical and emotional online support for families and caregivers, many of these sites also provide local contacts for in-person support.
www.specialneedsparentcoach.com
www.childrenwithspecialneeds.com
www.parentswithoutpartners.org
Financial Assistance
These sites provide information on scholarships, medical assistance, budgeting, and adaptive technologies.
www.patientadvocate.org/report.php
www.nei.nih.gov/health/financialaid.asp
www.nccp.org/tools/frs/budget.php
General Help
---
By Danica R. Botello
Danica R. Botello is the former Director of Advocacy of a national congenital heart defects/disease nonprofit organization. She has lectured extensively on the patient perspective, including at the Centers for Disease Control and Prevention in Atlanta at the Meeting of Congenital Heart Defect/Disease Experts. She is currently developing a large project to help others in their journey of caring for a child with special needs.