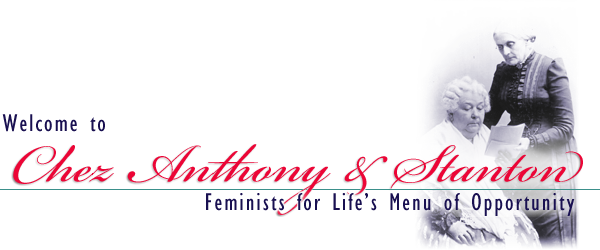 First Course
Grow Your Group Kit for a pro-woman, pro-life student group
$ 50.00
Revolution on Campus Kit to offer student leaders year-round ideas, tips, and tools
$ 35.00
Feminist History Kit for school and church libraries
$ 50.00
Historic Photos needed for Feminists for Life ads & publications
$ 25.00
Our Bread & Butter
Monthly Donations

Our core supporters choose their amount to help cover house costs of rent,




phones, fax, etc., and keep our doors open to ensure that the red carpet is




always rolled out, welcoming all people to FFL's pro-woman, pro-life philosophy.

Our Website:
The Gateway to FFL

 Monthly web costs
Second Course
FFL's Rally for Resources

Bring FFL's message and woman-centered solutions to the campus public square.




Includes materials, shipping, and guidance by FFL staff.

Software at non-profit rates

Help keep our productive juices flowing and productivity high

Equipment

We can't "cook" without it!

Get the Word Out

Printing and shipping costs for 5,000 of any of our bumper stickers:




• Pro-Woman, Pro-Life


• Say NO to the Status Quo: Women Deserve Better®


• Peace Begins in the Womb
---
Feminists for Life's Story
It all began in 1972 when Pat Goltz was evicted from a meeting of the National Organization for Women (NOW) in Ohio for distributing anti-abortion literature. She and Cathy Callahan believed abortion contradicted the basic principles of feminism—nondiscrimination, nonviolence and justice for all.
Together they reawakened more than a century's opposition to abortion by earlier feminists—including Elizabeth Cady Stanton who founded the American women's movement and Alice Paul the author of the Equal Rights Amendment—and co-founded a group called Feminists for Life.
Like Susan B. Anthony and the other early American feminists, Feminists for Life is dedicated to systematically eliminating the root causes that drive women to abortion—primarily lack of practical resources and support—through holistic, woman-centered solutions. Abortion is a reflection that our society has failed to meet the needs of women—and women deserve better.
Feminists for Life is taking our message that Women Deserve Better ® than abortion to key agents of change:
• college-age women who are at highest risk of abortion—and who are the next generation of health care providers, educators, legislators, judges and attorneys, business leaders and human resource specialists, voters and parents;
• members of the entertainment industry who are vital in helping us bring about cultural change;
• and legislators and policymakers who are critical to protecting women and children from all forms of violence, and meeting the needs of women in the US and around the world
thereby changing the culture toward one that celebrates womanhood, supports mothers and birthmothers, and honors fathers.
Through our education and advocacy efforts, FFL has worked to reduce poverty among women and children, to encourage the active support of fathers in the lives of their children, to improve child support enforcement, to prevent coerced abortions, and to prevent violence against women and children.
Every year, every supporter, brings us closer to fulfilling the unrealized dream of Susan B. Anthony. Help write the next chapter in women's history. It starts with the next generation of leaders.
It has never been more important to support FFL, an organization with a track record of successfully advocating woman-centered solutions across political and ideological lines. To order more menus to present to friends by mail, in person or at events, please contact us at info@feministsforlife.org.