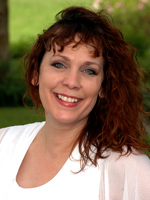 Imagine being a nanny and taking the night off. You're dropped off at the movies, but your ride is drunk and can't pick you up. So, you start walking to a home quite a distance away. It's late, around midnight, and you're walking as fast as possible. But not fast enough to escape eight young men on a street corner in St. Louis. That's what happened to my mother, Ann, in 1956.
She finally made it home after being beaten and raped by each man. Not telling anyone, she packed her bags and headed back home to her parents. Three months later, she learned she was pregnant.
Being well aware she was carrying nothing less than a baby — her baby — Ann was determined to give birth. She was horrified to hear her doctor say, "I can take care of it for you," even when abortion wasn't legal. She stood her ground and informed him he would not "take care of it." As a result, her mother refused to believe she'd been raped. Who could possibly want a child of a rapist? My grandmother wanted me dead. Like many women in similar circumstances, Ann was pressured to abort but refused.
My mother is my hero. She gave birth on Valentine's Day 1957, placing me for adoption. Secretly allowed to see me twice a day, she held and loved me for two weeks. At three months, I was adopted by a couple who couldn't have children. Like most daughters, I became a "Daddy's girl." They always told the story of my dad seeing me for the first time. They wanted a boy, but when my dad saw me, he immediately took me into his arms and refused to give me back. A WWII veteran who watched the flag raised at Iwo Jima, Daddy was my personal hero, too.
I was wanted, loved, and given the gift of three loving parents thanks to a woman who understood the gift of life. In 2005, our eyes met again, and she told me her story. As I wept for her, she patted my shoulder and said, "Honey, stop your crying. I've forgiven those men, and look what God has done. He's brought you back to me." She had prayed for 48 years for my return.
My adoptive parents are deceased, and my birthmother's only other child died in 2010. So, as mother and child, we have only each other now. I've never met anyone who regrets giving life, but I have met many who regret taking it. I am forever grateful.
Juda Myers heads the nonprofit organization CHOICES4LIFE, whose mission is to educate society about the worth of every human life and to restore respect to women who chose life after conceiving in rape. She believes that, "Women are strong enough to love their children, even in cases of rape."