FFL's Dynamic Speakers
In celebration of the ratification of the suffrage amendment (also known as the Anthony Amendment in honor of Susan B. Anthony) on August 18, 1920, Feminists for Life of America is pleased to announce the 2020 Vision Campaign.
As we look toward the 2020 Centennial Celebration of the 19th Amendment, which guaranteed adult American women the right to vote, Feminists for Life is accelerating our efforts to educate others about our rich pro-life feminist history and address the feminization of poverty for those at highest risk of abortion.
 This is our revolution.
What fuels the feminization of poverty that drives women to abortion? Three primary causes include:
●     Lack of education,
●     Lack of workplace accommodation,
●     Lack of paternal support.
I also believe there is a poverty of spirit since the Roe v. Wade experiment on women began costing the lives of millions of unborn children and hundreds of teens and women — many of whom didn't want to inconvenience US with their pregnancies.
Leading up to the Centennial Celebration, FFL has exciting plans to ramp up our revolution to realize the unfulfilled vision of Susan B. Anthony to address the root causes that drive women to abortion by 2020.
Our new campaign logo is inspired by Susan B. Anthony's glasses and the suffrage colors gold, purple, and white.
Through her eyes, you will see in black and white a vision of where we are, while the lens in color will express where we can and should be. Women deserve better.
Look for us to change out the lenses as we move from topic to topic.
Leveraging the 2020 Centennial Celebration, look for Feminists for Life to announce major initiatives in the weeks, months, and years to come.
Together, we can and will advocate better resources and better choices for the most vulnerable among us.
Please, support our efforts to realize the unfulfilled vision! And mark your calendar for August 26, for our next BIG announcement! Thank you.
Because women deserve better,
Serrin M. Foster
President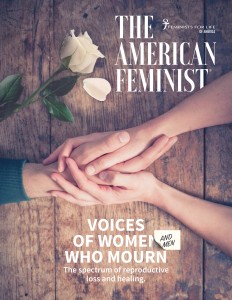 PS The next issue of The American Feminist is at the printers now. Please be sure that your support is current! "Voices of Women — and Men — who Mourn" includes powerful stories of reproductive loss and inspirational healing. Everyone who has previewed this issue agree: It's one of our best — and another "keeper."
An important part of our 2020 Vision is to pressure the US Treasury to get our feminist foremothers onto the $10 in time for the Centennial Celebration. Learn more and sign here!
FFL President Serrin M. Foster is the creator of the Women Deserve Better® campaign. Her landmark speech, "The Feminist Case Against Abortion," has been recognized as one of the "great speeches in history" in an anthology called Women's Rights. She has focused on developing on-campus resources and support for underserved pregnant and parenting students and is an outspoken opponent of pregnancy discrimination.
Serrin has led Feminists for Life since 1994. Under her leadership, FFL successfully advocated benefits for poor and pregnant women through the State Child Health Insurance Program, worked in coalition with other women's organizations to defeat the mandatory "family cap" and other punitive child exclusion provisions in welfare reform, and helped to prevent poverty and coerced abortions due to threats to withhold child support through passage of the Enhanced Child Support Act.
Serrin served on the National Taskforce Against Sexual Assault and Domestic Violence, which worked to pass the Violence Against Women Act, and she also testified before the U.S. House Judiciary Committee in support of the Unborn Victims of Violence Act, also known as "Laci and Conner's Law."
In January 1997, Serrin moderated the first-ever FFL Pregnancy Resource ForumSM at Georgetown University, which became a model for the country and in 2010 became the basis for Pregnancy Assistance Fund grants awarded by the U.S. Department of Health and Human Services. 
Serrin's efforts earned her an honorary doctorate from Belmont Abbey College in 2008.
Serrin has been interviewed by ABC News, CBN, CNN, EWTN, and FOX News, Chicago Tribune, Los Angeles Times, New York Times, NPR, Washington Post, Washington Times, and CNN International, RTÉ, and many other news outlets.
Serrin serves as editor-in-chief of The American Feminist and FFL's resource website, WomenDeserveBetter.com.
To book Serrin to speak at your next conference, banquet, rally or campus event, or to inquire about her hosting an FFL Pregnancy Resource ForumSM at your university or college, please contact coordinator@ffloncampus.org. Interviews should be directed to info@feministsforlife.org
Hear what they're saying about "The Feminist Case Against Abortion"
"Serrin's lecture was the biggest turnout for an event our club has sponsored. I loved how friendly Serrin was with students before and after the lecture. Serrin is a dynamic speaker and makes a compelling argument."
—Maddie Davin, Wheeling Jesuit University, WV (November 2017; it was their largest event ever!)

"The lecture was an excellent opportunity for our students to hear a pro-life argument not based on religious principles, and therefore easier to present to non-religious students on campus…. [We most liked] her sincerity and passion, her ability to show clearly the real meaning of feminism, and her conviction balanced with compassion."
—John More, George Mason University, VA (October 2017)
"Serrin's talk is great for a feminist crowd and will definitely open conversation on your campus!"
—Cassidy Roderick, Franciscan University at Steubenville OH (November 2017)
"FFL moves the discussion from generalities to specific, very human contexts. Linking the life movement to the civil rights saga was brilliant and informative. I would recommend her as a speaker to leaders at other venues without hesitation."
—Father Randolph Geminder, Saint Mary's Anglican Church, New York (October 2017)
"The event was such a success! Your speech was stirring, and engaging, and was the absolute highlight of the event…. We are getting feedback from attendees about how much they loved your speech, and also how it was helpful for them practically. Thank you!!"
—Ifeoma Anunkor, One Spring Night, The Human Life Review, NYC (June 2017)
"Several people pointed out certain things that shocked them, that they never heard of before, and/or that really stuck with them, such as the pro-life stance of the first feminists and the fact that most women getting abortions already have kids. They were uplifted and inspired to do more!"
—Heather Gardner, Ladies for Life Brunch, Benefit for Central Texas Coalition for Life (May 2017)

"Ms. Foster is really wonderful and interesting and can draw a crowd even on a campus that is not traditionally very actively pro-life. This is a great bridge between feminist groups and the pro-life groups."
—Katharine Britton, University of Virginia (April 2016; it was also their largest event ever!)
"Ms. Foster was very passionate about what she was talking about which made her presentation even more powerful…. I think [her speech] reaches all kinds of people and spreads the message that feminists are pro-life."
—Emily Hacker, St. Norbert College WI (April 2015, after Gloria Steinem spoke the prior week)
Click here to see a historical list of where our speakers have spoken.
Joyce McCauley-Benner presents "Slaves Among Us: Sex Trafficking in the U.S." and "Victory Over Violence," her personal story. For the past 15-plus years, Joyce has worked as an advocate for vulnerable populations, including sex trafficking victims, domestic violence victims, and low-income families. While working with those populations, she was a case manager, researcher, and legal advocate. Joyce weaves her personal story of pregnancy after rape along with experiences from her advocacy efforts to help audiences understand the powerful connection between the exploitation of women and the exploitation of abortion. As a pro-life feminist, Joyce has also worked as a racial justice facilitator and community organizer, and currently oversees a utility assistance program for low-income families in addition to her pro life feminist work. She is a frequent contributor to FFL's magazine, The American Feminist, and has addressed poverty, violence, and exploitation during her presentations on campus, on Capitol Hill, and at international conferences.
Hear what they're saying about "Victory over Violence"

"Our Boots on the Ground [Conference] evaluation was rated with numbers, and Joyce had some of the highest ratings, for sure. She was most people's favorite. I think it helped to have her kind of talk be the very last talk, because her message is so hopeful."
—Veronica Arnold Smither, Boots on the Ground Conference, University of Texas at Austin (January 2017)
"Sometimes, it's hard to be both pro-life and pro-women. I think it was important for people to understand how we can be both."
—Emily Lambert, St. Mary's College, Notre Dame, IN (November 2016)
"The lecture helped us solidify our pro-life community here, as well as providing a space for people from all sides of the [abortion] issue to have civil dialogue about it."
—Caroline Priore, St. Olaf College, MN (September 2016)
Hear what they're saying about "Slaves Among Us: Sex Trafficking in the U.S."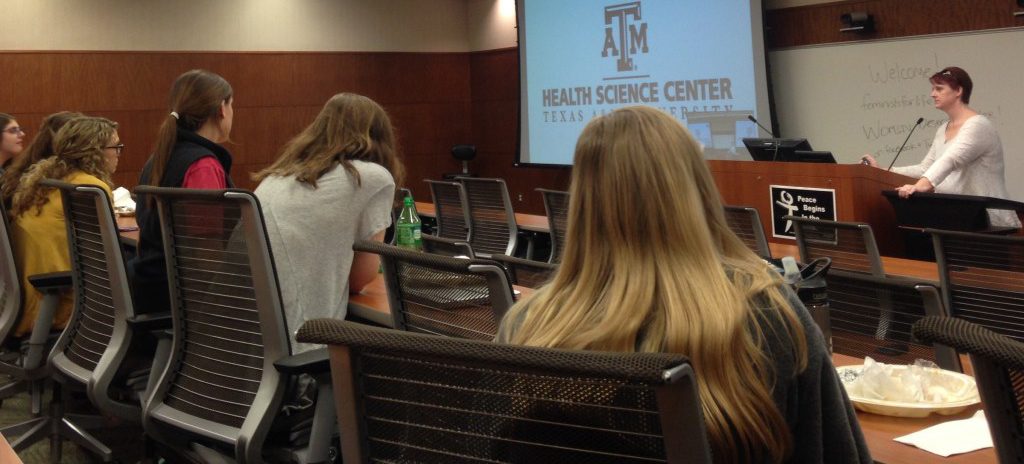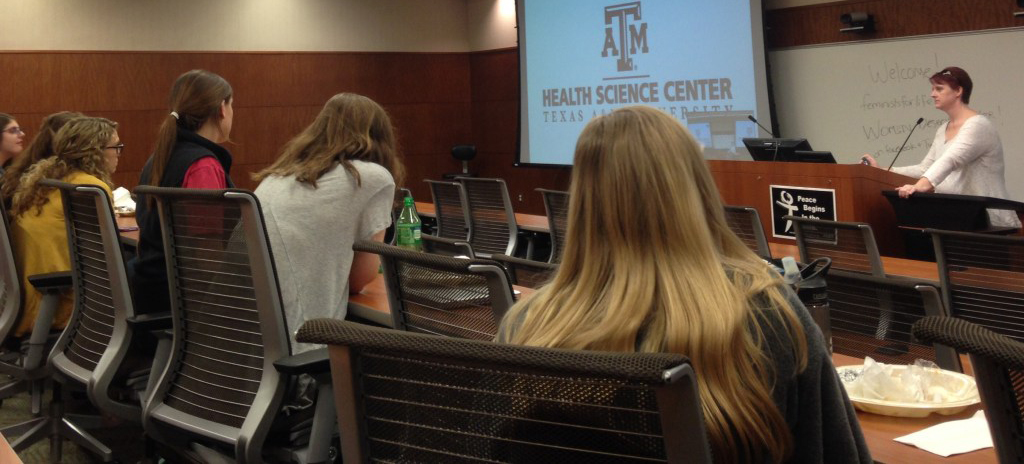 "The sex trafficking talk was EXCELLENT…. It's really great to have a feminist speak about respect life issues because it draws both pro-life and pro-choice students in…. I liked most the fact that pro-choice students who attended got to listen to a real feminist who is also pro-life!"
—Frances Dijeh, Texas Tech University (January 2017)
Preview Joyce's lecture here
Preview an audio recording of Joyce.
Click here to see a historical list of where our speakers have spoken.
Cynthia J. Wood presents her brand-new training course, "Speak Up & Speak Out About Sexual Harassment: Find Your Assertive Voice."
Cynthia serves as the National Operations Coordinator for Feminists for Life of America. Prior to FFL, she worked for the federal government for 35 years as a trainer for numerous workshops, including Prevention of Sexual Harassment (POSH), Effective Communication, and team-building and leadership workshops. 
Cynthia received a law degree from University of Houston Law Center in 1999. She has been a Bar Member of the D.C. Court of Appeals, Virginia, and Florida. 
She is married and has four children.
Contact us at info@feministsforlife.org to schedule her to speak at your school or organization.