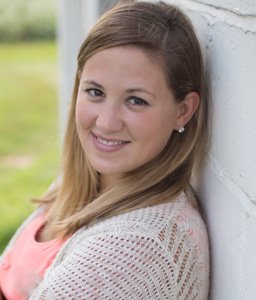 Chaunie M. Brusie became a student mother her senior year of college. She shared her personal story as a pregnant student who challenged the status quo in FFL's 2007 e-series, Chaunie's Journey. After interning with Feminists for Life, Chaunie founded S.U.P.P.O.R.T., a campus organization dedicated to creating resources and support for pregnant and parenting students like herself. Chaunie hosted FFL's first Pregnant and Parenting Students Fair, successfully petitioning for more pregnant and parenting resources on her campus. She graduated on time with her bachelor's degree one week before delivering her daughter.
As a national speaker on empowering young mothers, Chaunie travels the country talking  about her experience having an unplanned pregnancy during her senior year of  college and working to change her campus in support of better pregnant and  parenting resources. As former FFL College Outreach Program Coordinator, Chaunie has helped to lead hundreds of students across the nation transform their campuses with woman and parent-centered solutions. She has spoken on Capitol Hill and at top universities and schools around the nation and in 2007 was awarded the National Association of Pro-Life Nurses Award.
Chaunie is the author of Tiny Blue Lines: Reclaiming Your Life, Preparing For Your Baby, and Moving Forward in Faith in an Unplanned Pregnancy She is also a freelance writer specializing in health-related and parenting topics. As a registered nurse with experience in labor and delivery, critical care, and long-term nursing, Chaunie leans towards writing on health topics that pertain to everyday life. Her work has been published with national publications such as Parents, The Bump, Babble,  BlogHer, The Huffington Post, and Pregnancy & Newborn.
Chaunie and her husband live in Michigan where she is a freelance writer, editor, advocate and speaker for young women facing unplanned pregnancies, and most of all–full-time mom to two amazing little girls and an adorably chunky little man.
Preview Chaunie's speech here.
Click here to see a historical list of where our speakers have spoken.